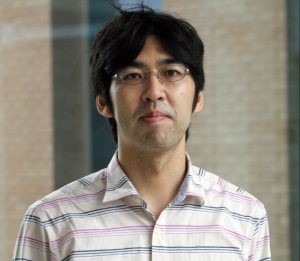 https://cancerbiology.wisc.edu/staff/suzuki-phd-aussie/
Q1: What kind of samples do you usually work with?
A: Mammalian tissue culture cells, human organoids, and budding yeast (only for temperature control).

---
Q2: What is your goal in the research that you are working on right now?
A: Our laboratory focuses on the molecular mechanism of how cells achieve faithful cell division. We use variety of light microscopes, which include Yokogawa SORA super-resolution confocal, D4 lattice light sheet, Mizar TILT, Leica STED, and Nikon A1 confocal microscopes to study cell division cycle. We also developed tension biosensors to detect force for chromosome movements and novel ExM (expansion microscopy) methods to exceed optical resolution limit to study structural deformation of proteins involved in chromosome segregation.

---
Q3: What kind of application/microscopy do you use during the time-lapse imaging?
A: Live super-spatiotemporal resolution imaging for cell cycle analysis. Long-time lapse imaging for cell cycle (> 48 hrs). Migration assay using flow slides.

---
Q4: What were the subjects/topics that attracted your attention most recently in your filed?
A: Chromosome segregation is mediated by force at the interface of kinetochore-microtubule attachment on mitotic chromosomes. Tension at kinetochores is also involved in regulation of checkpoint functions during chromosome segregation, which monitor errors. However, tension at kinetochores is technically challenging to study since it is highly dynamic and very tiny (pN scale). It requires to develop a sensitive detector, such as a biosensor, and provide stable environment like a Tokai Hit incubator. We are hoping to develop it and dissect functions of force at kinetochores in ensuring accurate chromosome segregation.

---
Q1: What is your favorite part about the Tokai Hit system that you own?
A: Tokai Hit provides high quality products. I have both old and latest Tokai Hit stage top incubator systems. Both systems are very user friendly and provide stable environment for live cell imaging. I especially like that the latest model has the feedback control function and all-in-one system, which fits any specimens (35 mm dish, chamber slide/coverslips, and plates) without any additional cost.

---
Q2: How do you describe Tokai Hit product performance, features, and services to you?
A: As I mentioned above, Tokai Hit incubators are very stable and easy set-up. Cells in incubators grow very healthy during long-term imaging (we frequently do > 48 hours time-lapse). Cell division is very sensitive for environment of incubators (temperature and CO2). It is very critical to use of the stable incubator system for our research, and Tokai Hit incubator meets our desires. In addition to my laboratory, approximately 20 Tokai Hit incubators are working in our university, and all users like the quality of Tokai Hit incubators. This indicate that the Tokai Hit incubator supports broad research fields. Note that another advantage of Tokai Hit is high quality customer support. Oversea users often concern product supports, but in my experience, Tokai Hit could communicate in English and always provide prompt response to solve our problems.

---